The Company was founded in 1982 as cooperative "Società Cooperativa COOP.E.M.STAMPI a r.l." from 9 business partners. Core business of the cooperative was the custom manufacturing of mould parts and complete injection moulds for the packaging and handling industry.
In 1998 the Company was converted into a S.r.l. [private limited liability company] and took the current name of Euro Stampi. The founding partners were joined by other skilled staff and this was the first step towards an uninterrupted and steady growth. Around 2000 Euro Stampi counts already 20-25 mouldmakers and a small technical team for mould design and CAM programming. At this point in time our turnover is already divided into 50% for custom manufacturing and 50% for direct orders from Italian and foreign customers.
Our business is still focused into the packaging industry but moulds get increasingly complex and their dimensions bigger and bigger. This turns Euro Stampi into one of the European mould makers with the highest capacity to address and satisfy the demand for large moulds.
In Euro Stampi we have staff dealing with customer search and customer care. We develop and optimize solutions with our Customers, supported by our state-of-the-art design team.
Company turnover increases, so Euro Stampi decides to move in 2003 to a bigger plant. This allows to increase production capacity and customer care, as well as offer more services and support. Injection machines are installed in the new factory for sampling moulds before shipment as well as making pre-productions when required by Customers. In cooperation with free-lance salespeople Euro Stampi aims at reducing more and more the turnover coming from custom-manufacturing to concentrate on the creation of a customer portfolio at international level. In 2005-2006 this step is almost completed. The Company grows further and creates an in-house sales team, with staff dealing with customer search and customer care, as well as a design team with state-of-the-art equipment for analysis and development of mould designs in cooperation with our Customers. An improvement in management structure takes place at the same time, which is necessary to continue the growth path. In 2006/2008 Euro Stampi staff counts 35 persons in total. The Company owners confirm their will to specialize in the manufacturing of injection moulds for medium/large size products. In this period of time Euro Stampi makes its first experiences in the fields of pallets and waste containers. These fields will become our core business, together with packaging and large containers for agriculture and industry, which are the natural development of our activity in the early years.
We are known and appreciated in Europe and outside Europe as one of the most experienced and reliable manufacturers of medium-to-large size injections moulds for thermoplastic materials.
Today our turnover is three times higher than 2009 and staff has increased to over 50 persons. The number of machines has been increased by investing on high-tech equipment and we have now 4 injection machines, ranging from 750 ton to 3500 ton, to make trials and productions for all medium/large size moulds built by Euro Stampi.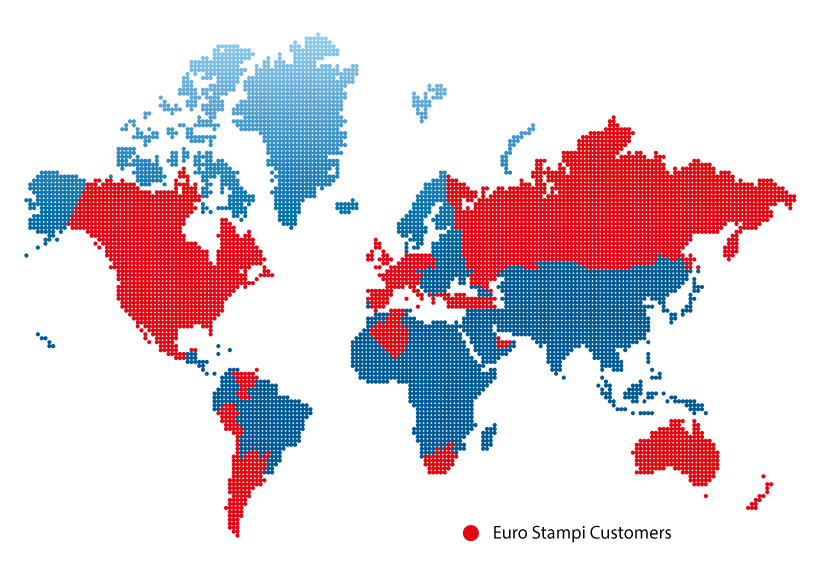 Our in-house sales team is active all over the world. To date Euro Stampi has built and delivered moulds to Customers located in 35 countries in 5 continents. At management level the Company has today 5 owners (all already present when the Company was founded) which are directly involved within the Company and hold key positions in commercial/accounting management, production control & management, production planning and machine maintenance.
Today Euro Stampi is known and appreciated in Europe and outside Europe as one of the most experienced and reliable manufacturers of medium-to-large size injections moulds (up to 110 ton weight) for thermoplastic materials. This has been possible thanks to the experience gathered during many years of activity, the reliability always shown also in meeting deadlines, and the services offered to our Customers, including technical assistance at mould start-up in any country by skilled staff, training of Customer staff as well as mould modifications and maintenance directly at Customer site.